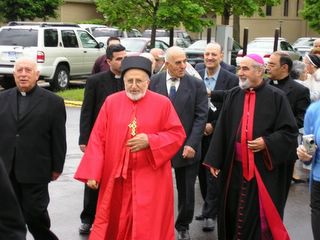 Patriarch Dally III in (MI) U.S.A
On his Left Bishop Ibrahim Ibrahim, on his right Msgr. Sleman Denha
Posted by Hello
On May 24th, his beatitude Mar Emmanuel Dally III arrived to Michigan State coming from Europe, in his first visit to the United States of America as a Patriarch.
The schedule of his visit will be as follow:
1- St. Thomas Chaldean Diocese: (May 24) – (June 20).
2- St. Peter Chaldean Diocese: (June 21) – (July 11).
* We'll inform you about the details of his visit.